Microsoft 이번 분기 실적이 상당히 좋다. 매출과 이익이 모두 증가했다. 이렇게 성장이 다시 좋아진 이유는 바로 Azure Cloud Service 때문이다. 나도 Azure 클라우드를 사용해본 결과 상당히 괜찮다. 추천해줄 만 하다.
결론 MS 이번 분기 Azure 성장률이 거의 90%이다.
자세한 내용은 아래 글 참조하세요.
Summary
Strong performance from Azure once again; up 89%.
Strong operational momentum.
The stock is still undervalued relative to its full potential.
Investment Thesis
I initiated the coverage of Microsoft's (MSFT) growth opportunity back in May 2017 and concluded that article by writing:
Despite having had its revenue largely stagnate in the past 3 fiscal years, I feel that investors are overlooking Microsoft's Cloud business. I have attempted to argue that Microsoft's current share price still offers patient investors a source of investment returns with a margin of safety.
Thus, it has been nice to see what I had been highlighting for the past several months starting to transpire. Nevertheless, in spite of the stock rallying strongly in the past several months, I still believe that its share are mispriced and do not fully reflect Microsoft's full potential.
Recent Business Developments: Cloud
Microsoft recently released its Q1 2018 results which impressed investors. The fact that Microsoft delivered on its highly ambitious goal of reaching $20 billion ARR from Azure speaks volumes of management's ability to succeed. How could they not reach their target early? Microsoft had been growing its cloud business at approximately 90% year over year for several quarters.
And while its competitors such as IBM (IBM) have been going after the same market, I have remained outspokenly critical of IBM's prospects. With an article about IBM entitled, Market Overreaction To A Minor Improvement, IBM's shareholders were themselves outspokenly critical of my analysis. I had been trying to explain to readers that while IBM's cloud opportunity is also vast, its shareholders were not set to benefit because IBM's management was more concerned about empire building than growing its business. When all was said and done, two weeks after IBM's results have had time to settle, so too has its share price - which is practically unchanged compared to before its Q3 2017 results came out.
At Microsoft, this is not the case. Microsoft's culture is singularly focused on monetizing each business line. It was inevitable that they would succeed in their cloud goals. For example, most businesses already use Microsoft's products, in fact, it would be reasonable to assume the readers of this article use Microsoft's products for some portion of their work. As it turns out, according to Microsoft, nearly every Fortune 500 company has chosen to partner with Microsoft. And why would they not, since so many businesses already have Microsoft's SQL servers on-premise. In actuality, Microsoft has made it seamless for businesses to upload their data to the cloud. Moreover, businesses will soon be able to leverage Microsoft's AI technology to offer them some competitive advantage in data-intensive workloads. Or better said, businesses that do not invest in a cloud platform will be at a material disadvantage.
Microsoft's Track Record

As can be seen above, Microsoft has proven over time that it is steadfast on creating shareholder value. The business continues to grow steadily with CAGR of 4% in the past 5 years. However, I humbly believe that Microsoft is now in the early innings of a new era. Although the value investor in me shivers at my own previous sentence, where I seen the delusion of numerous other investors who predicted that this time it's different, or that such and such a business is entering a new stage of growth; only to be later proven wrong. Possibly, I am wrong, but, I do not believe that investors putting their hard-earned savings into Microsoft will find themselves too despondent over the next 2-3 years.
Obviously, Microsoft's competitors such as IBM's cloud, Google's cloud (NASDAQ:GOOG) (GOOGL) and Amazon's AWS (AMZN) will do all they can to gain significant market, but this market, for now, remains truly nascent and highly fragmented. At the moment, the cloud industry remains far from saturated. And even if the competition managed to gain some market share at Azure's expense, Microsoft's shareholders are not paying a large multiple to participate in this sectors tailwinds.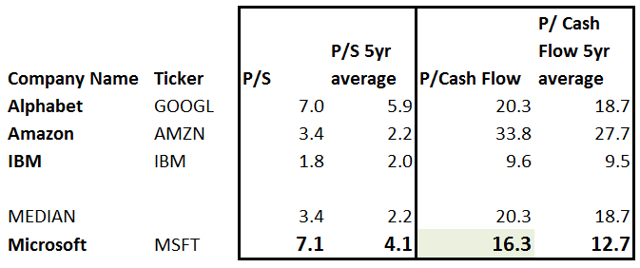 While many commentators have been, in my opinion, wrongly arguing that there is a tech bubble in the making, I boldly state that this is not the case. Principally this is not the case because the cloud business is an extremely cash generative business. Furthermore, as can be seen in the table above, highlighted in green, it shows how investors are only paying 16.3 times its cash flow for Microsoft's opportunity. The only company which is priced cheaper is IBM. However, as I have already noted above IBM's management is not incentivized enough in the correct way to make those necessary tough decisions and split its operations. Thus, 16.3 times cash flow is not a large amount for a company which has proven itself and continues to innovate.
Takeaway
Microsoft continues to evolve and become further entrenched in our modern economy. Presently, its shares do not fully reflect its cloud's opportunity. The sector remains highly fragmented with demand far outstripping supply and as long as investors are not overpaying to participate in this sector's growth, they do not necessarily need to pick the one enterprise that will come to dominate this space. In fact, trying to pick winners is a particularly dangerous endeavor. However, by shareholders exposing themselves to a company with a strong track record while at the same time not overpaying there is an inherent margin of safety.
Author's note: If you have enjoyed reading this article, please click "Follow" to get more articles of mine in real time.
Disclaimer: Please do your own due diligence to reach your own conclusions.
Disclosure: I/we have no positions in any stocks mentioned, and no plans to initiate any positions within the next 72 hours.
I wrote this article myself, and it expresses my own opinions. I am not receiving compensation for it (other than from Seeking Alpha). I have no business relationship with any company whose stock is mentioned in this article.
Source : https://seekingalpha.com/article/4121888-microsoft-delivers-outstanding-quarter